Wayne State physics professor awarded DOE Early Career Research Program grant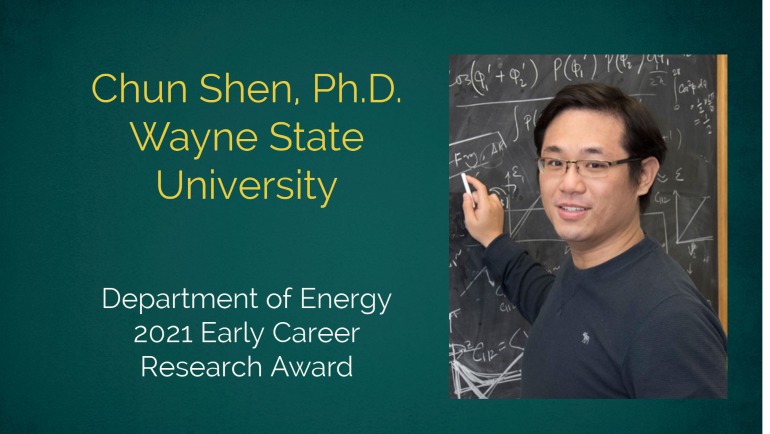 DETROIT – The U.S. Department of Energy recently announced the awardees for its Early Career Research Program. The program will support 83 scientists, who will receive a total of $100 million in funding that will support critical research to cement America as a global leader in science and innovation.
Chun Shen, Ph.D., assistant professor of physics and astronomy in Wayne State University's College of Liberal Arts and Sciences, was awarded a five-year, $750,000 award for his project, "Quantitative Characterization of Emerging Quark-Gluon Plasma Properties with Dynamical Fluctuations and Small Systems."
The project will focus on elucidating Quark-Gluon Plasma (QGP) properties — a novel state of matter that existed at the infant phase of our universe — by understanding the dynamical evolution of stochastic fluctuations in relativistic heavy-ion collisions from large to small systems.
"My research will provide a quantitative characterization of the QGP properties, how it ripples and flows, and its phase structure by interweaving theoretical many-body nuclear physics, high-performance computing and advanced machine learning techniques," said Shen. "My work aims to develop a new open-source theoretical framework to decode hot nuclear matter properties from the measured multi-particle correlations."
According to Shen, this prestigious grant will allow several Wayne State students the opportunity to participate in state-of-art nuclear physics research and interfacing with advanced big-data/statistical analysis. The outcomes of this research will greatly push forward the nuclear physics frontier and benefit the current Beam Energy Scan phase II and upcoming SPHENIX programs at the Relativistic Heavy Ion Collider in the U.S., high luminosity runs at the Large Hadron Collider in Europe, and the future Electron-Ion Collider and Facility for Antiproton and Ion Research.
"Dr. Shen's award is the first DOE early career award in the department's history, and it shows the strength of our junior faculty," said Peter Hoffman, chair of the Department of Physics and Astronomy. "Previously, the department had garnered a significant number of NSF early career awards, but this is the first from DOE."
"Maintaining our nation's brain trust of world-class scientists and researchers is one of DOE's top priorities—and that means we need to give them the resources they need to succeed early on in their careers," said Secretary of Energy Jennifer M. Granholm. "These awardees show exceptional potential to help us tackle America's toughest challenges and secure our economic competitiveness for decades to come."
For more information about the Early Career Research Program, visit https://science.osti.gov/early-career.
###
About Wayne State University
Wayne State University is one of the nation's pre-eminent public research universities in an urban setting. Through its multidisciplinary approach to research and education, and its ongoing collaboration with government, industry and other institutions, the university seeks to enhance economic growth and improve the quality of life in the city of Detroit, state of Michigan and throughout the world. For more information about research at Wayne State University, visit research.wayne.edu.
Contact info
Julie O'Connor