Wayne State researchers and students receive EPA funding to understand Detroit's unique groundwater/stormwater interface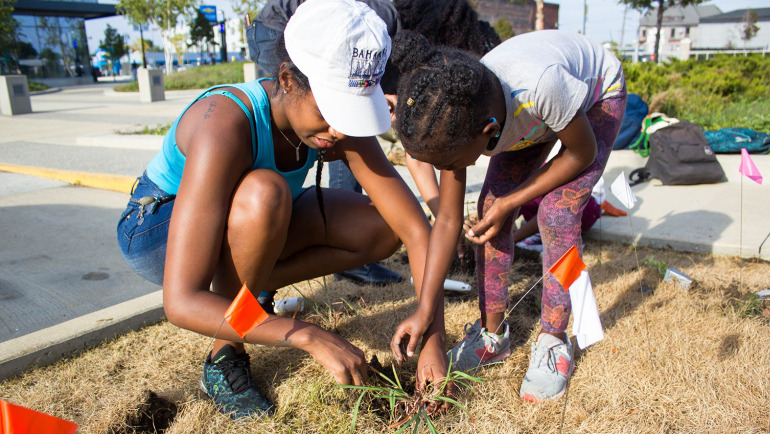 System to benefit Detroit residents and surrounding communities
DETROIT - A team of researchers and students from Wayne State University recently received a one-year grant from the U.S. Environmental Protection Agency (EPA) that aims to develop technologies to address stormwater and wastewater infrastructure needs in communities, particularly those that are small, rural, tribal and/or disadvantaged. The team chose to focus on Detroit because of its larger population of minorities that are primarily low-income, as well as an aging city infrastructure that causes an increased risk to environmental hazards exposure.
According to Carol Miller, Ph.D., the principal investigator on the project and professor of civil and environmental engineering at Wayne State, the data on groundwater flow and quality is extremely limited in metro Detroit, despite an increasing number of groundwater-related vapor intrusion events.
"To decrease the impact of flooding and frequency of combined sewer overflows, Detroit has developed a green stormwater infrastructure (GSI) program and incentives for installing GSI," said Miller. "However, the challenge to this is developing a scalable model of relatively low-cost groundwater monitoring stations to measure groundwater flow and quality at the neighborhood scale."
The project, GSI-Informed Urban Groundwater Monitoring Networks, will offer an opportunity to understand how green stormwater infrastructure affects urban groundwater quality and flow by piloting a network of community-based groundwater monitoring stations surrounding GSI sites in Detroit.
The team will develop and deploy an innovative design that uses small groundwater monitoring wells to create a groundwater modeling system that is modular and low-cost, ultimately making it highly adaptable to a variety of site conditions of GSI and urban soils.
"This project will give an important benefit to residents of Detroit and surrounding communities," said Miller. "Our work aims to pilot a groundwater monitoring network that can elucidate connections between GSI and groundwater, identify potential exposure pathways for contaminants, and, very importantly, provide community education and engagement around the importance of groundwater resources in the Great Lakes region."
Some of the other expected outcomes and benefits of this project include pollution prevention and control through monitoring urban groundwater movement and transport of contaminants through urban water systems, ultimately protecting human health and limiting exposure and transport of dangerous contaminants through groundwater-based vapor intrusion or surface drinking water sources.
The project will be composed of faculty members and graduate students from Wayne State's College of Engineering; College of Liberal Arts and Sciences; and College of Fine, Performing and Communication Arts, representing diverse fields including civil and environmental engineering, urban planning, anthropology, biological sciences and communications. Along with Miller, Rahul Mitra, Ph.D., associate professor of communication, and Donna Kashian, Ph.D., professor of biological sciences, are co-principal investigators on the grant.
"This project is an excellent example of the important collaborations that happen across Wayne State's campus," said Miller. "This project will really be accomplished through student researchers and will involve several Wayne State programs such as the Healthy Urban Waters program and the Transformative Research in Urban Sustainability Training program, which will greatly expand successful outcomes and learning opportunities for our students."
Student project leaders include Darrin Hunt, Brendan O'Leary, Natalie Lyon, Adam Pruett, Kate Ekhator, Colleen Linn, Brittanie Dabney, and Sadaf Teimoori.
The grant number for this U.S. Environmental Protection Agency project is 84016001.
###
About Wayne State University: Wayne State University is one of the nation's pre-eminent public research universities in an urban setting. Through its multidisciplinary approach to research and education, and its ongoing collaboration with government, industry and other institutions, the university seeks to enhance economic growth and improve the quality of life in the city of Detroit, state of Michigan and throughout the world. For more information about research at Wayne State University, visit research.wayne.edu.
Contact info
Julie O'Connor