Wayne State scientist, Miriam Greenberg, named AAAS Fellow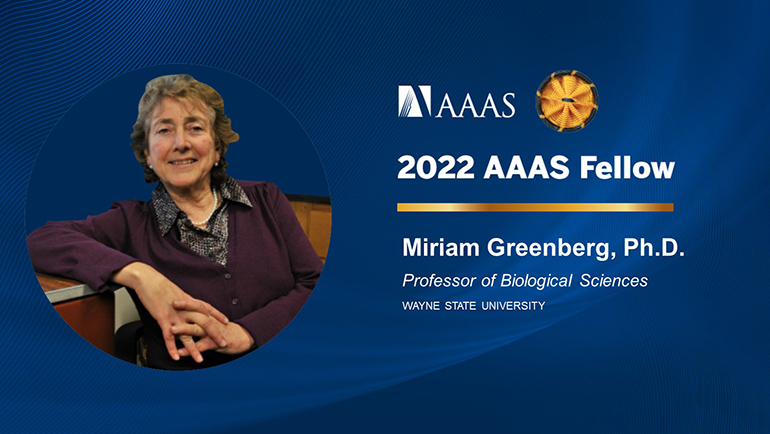 DETROIT – The American Association for the Advancement of Science (AAAS), the world's largest general scientific society and publisher of the Science family of journals, has elected more than 500 scientists, engineers and innovators from around the world and across all disciplines to the 2022 class of AAAS Fellows, one of the most distinguished honors within the scientific community. The newly elected fellows are being recognized for their scientific and socially notable achievements spanning their careers.
Miriam Greenberg, Ph.D., professor of biological sciences in the College of Liberal Arts and Sciences at Wayne State University, has been named an AAAS Fellow for her distinguished contributions to the field of lipid function, particularly for elucidating the role of cardiolipin in Barth syndrome (BTHS) and for identifying molecular mechanisms of control of inositol homeostasis.
Greenberg's research is focused on finding the cause of the pathology in BTHS, a rare and life-threatening, X-linked genetic disorder that primarily affects males and is passed from mother to son; women who are carriers do not show symptoms of the disorder. Fifty percent of children born to a mother who is a carrier will inherit the defective gene, and all daughters born to an affected man will be carriers. BTHS is caused by a mutation in the tafazzin gene that results in decreased production of cardiolipin, an essential lipid for energy metabolism.
Together with her collaborators, research team and students, Greenberg's research aims to determine the efficacy of potent new compounds to inhibit the production of oxidized lipids and ameliorate mitochondrial damage in BTHS cells, which may offer potential new treatments for the disease.
Greenberg has received numerous grants from the National Institutes of Health and other organizations since 1995 and has been featured in multiple publications. Along with her research, Greenberg has an impressive academic history. She attended Harvard University for her post-doctorate, Albert Einstein College of Medicine for her Ph.D., Loyola University for her M.S. and Reed College for her B.A. in biology.
"Dr. Greenberg is one of the leading experts in the world on Barth Syndrome, and her commitment to continue the advancement of scientific knowledge is critical to finding new treatments for this life-threatening genetic disorder," said Timothy Stemmler, Ph.D., vice president for research at Wayne State University. "Her incredible contributions to the study of Barth syndrome have led to new directions in understanding the pathology underlying this serious cardiovascular disorder. In addition, she is one of the most accomplished researchers at Wayne State University and is an outstanding colleague to all researchers that she collaborates with. She is most worthy of being named a 2022 AAAS Fellow, one of the most prestigious honors a U.S. scientist can receive, and I congratulate her on this wonderful recognition."
Since 1930, 75 Wayne State University faculty have been named AAAS Fellows. To view the 2022 class of AAAS Fellows, visit the AAAS website.
"AAAS is proud to elevate these standout individuals and recognize the many ways in which they've advanced scientific excellence, tackled complex societal challenges and pushed boundaries that will reap benefits for years to come," said Sudip S. Parikh, Ph.D., AAAS chief executive officer and executive publisher of the Science family of journals. "This year's class has moved their fields forward, paving the way for scientific advances that benefit society. They bring diverse and novelty thinking, innovative approaches and passion that will help solve the world's most complex problems."
About Wayne State University
Wayne State University is one of the nation's pre-eminent public research universities in an urban setting. Through its multidisciplinary approach to research and education, and its ongoing collaboration with government, industry and other institutions, the university seeks to enhance economic growth and improve the quality of life in the city of Detroit, state of Michigan and throughout the world. For more information about research at Wayne State University, visit research.wayne.edu.
Contact info
Julie O'Connor